Compact domestic ventilation.
The central ventilation unit for domestic ventilation with heat recovery to ventilate and purge living spaces up to 250 sqm in size in a controlled way. Energy-efficient. Quiet. Reliable. And equipped with the most modern device components. Thanks to its compact dimensions, the floor-standing solution can also be installed in common household and kitchen cupboards. For the most efficient use of living space and heating and technology rooms.
M Flex Air can be implemented as a unit on its own or in a combined system with System M heat pumps.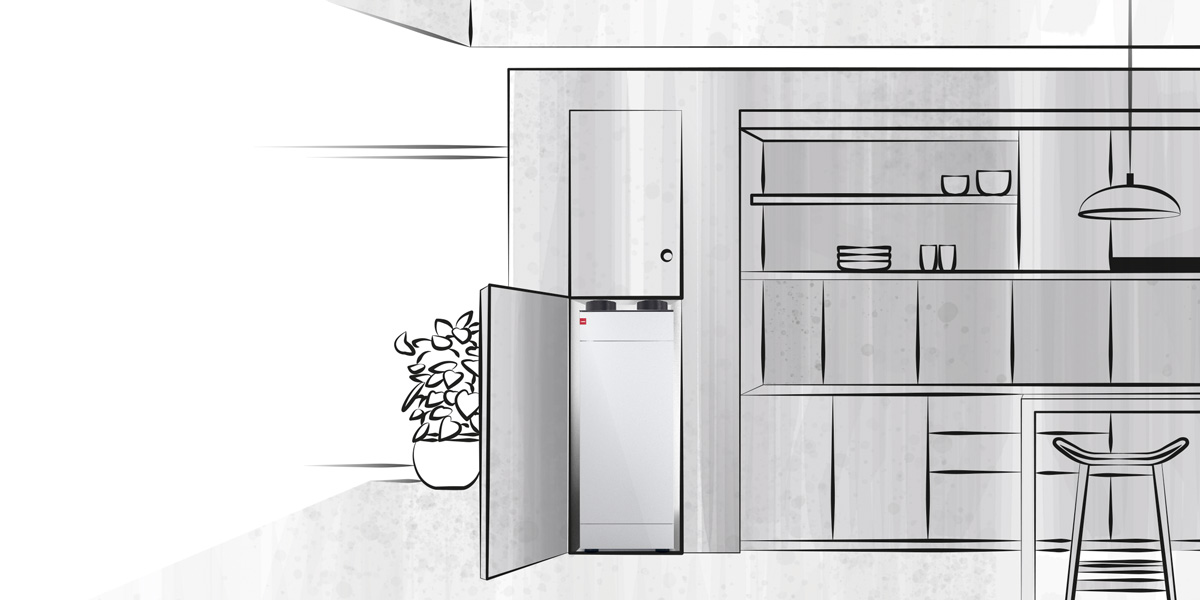 The place-saving
and subtle solution.
The design of the M Flex Air has a particular focus on compact dimensions. With a width of 53.4 cm and depth of 56.0 cm, the ventilation module fits into commercially available cabinet and kitchen units. It is also possible to wall-mount it and to orientate it both vertically and horizontally. This means that it is easily housed in the kitchen, hallway, bathroom or utility room.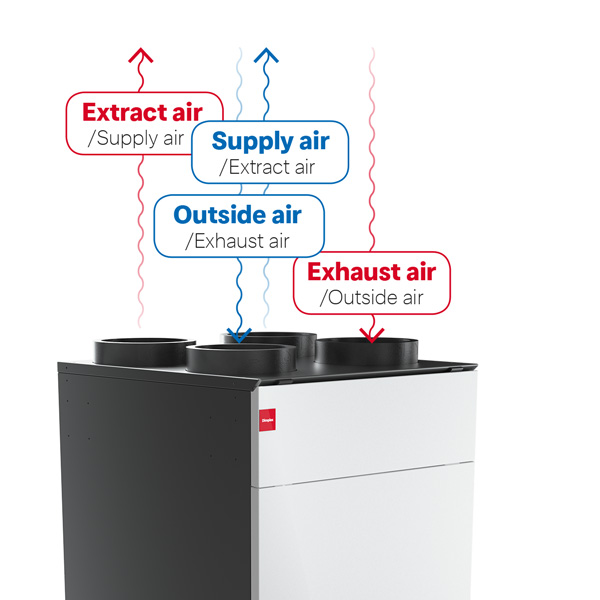 Flexible
installation. 
The directions of air flow can be changed with a supply air connection on the left or right, which ensures a high degree of installation freedom.
 
The integrable electric reheating register ensures increased comfort when the outside temperatures are low. In the winter, the integrable electric pre-heating register allows a safe and continuous heat recovery mode.
Functions for comfort.
Integrated as standard.
Air quality sensors in the exhaust air and even in the outside air.
Orientation of air connections can be chosen (supply air on left or right).
Fireplace safety function can be activated for volume flow balance.
Pollen filter.
Functions for comfort.
Optionally integrated.
Moisture recovery with enthalpy heat exchanger.
Electric outside air heating register.
Electric supply air heating register.
Filter cascade incl. pre-filter in the outside air intake.
Condensate siphon with dry-running and low pressure protection.
Condensate drain for use in cooled buildings.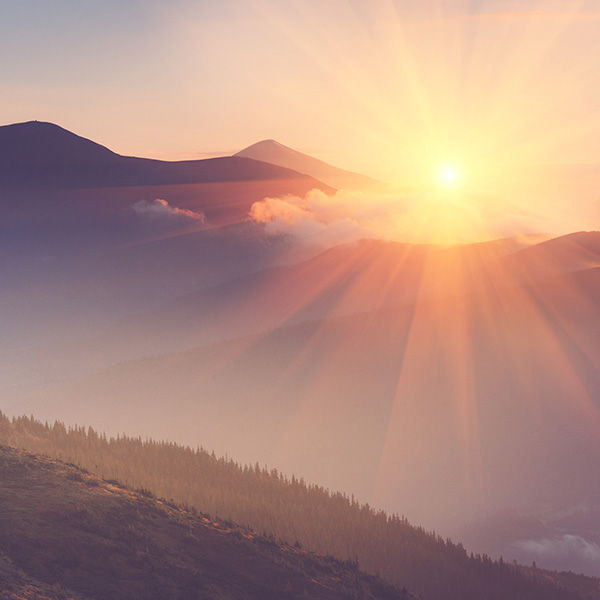 Guaranteed clean air.
Allergy-sufferers can finally breathe easy: Flower pollen, fine dust or soot particles do not even enter the living and sleeping spaces thanks to the pollen filter that is installed as standard, the fine filter that is available as an option and the optional filter cascade. The filter cascade is optionally available as a pre-filter in the outside air intake. The air quality sensors that are integrated as standard in the exhaust air and the outside air adapt the air exchange to the air quality in the inside spaces and the outside area.
This has a positive effect on well-being, promoting good sleep and concentration. And the ventilation system itself? It runs almost noiselessly.
Operation with fireplaces.
Safety comes first.
In apartments and buildings with a fireplace (tiled stove, wood burning stove, gas boiler), a ventilation system may only be installed and operated with extensive safety measures in place to ensure that no hazardous fumes escape into the living area during operation.
The TÜV-tested built-in fireplace-safety function in Glen Dimplex ventilation products maintains a volume flow balance and offers maximum safety and comfort, maintaining the perfect balance between outside and inside air at all times.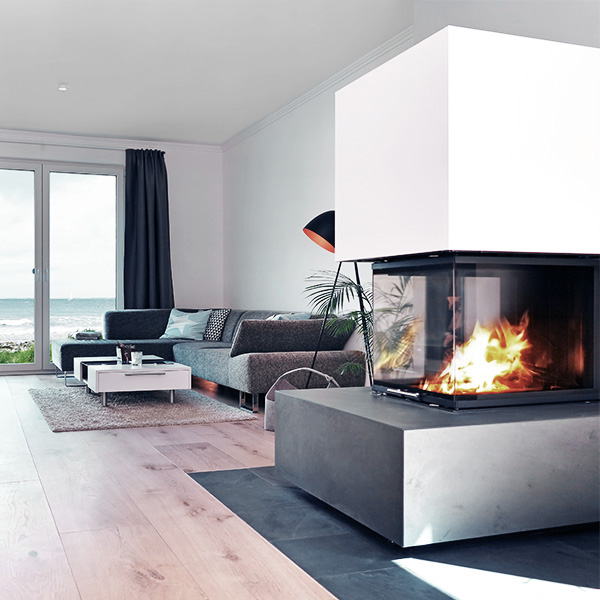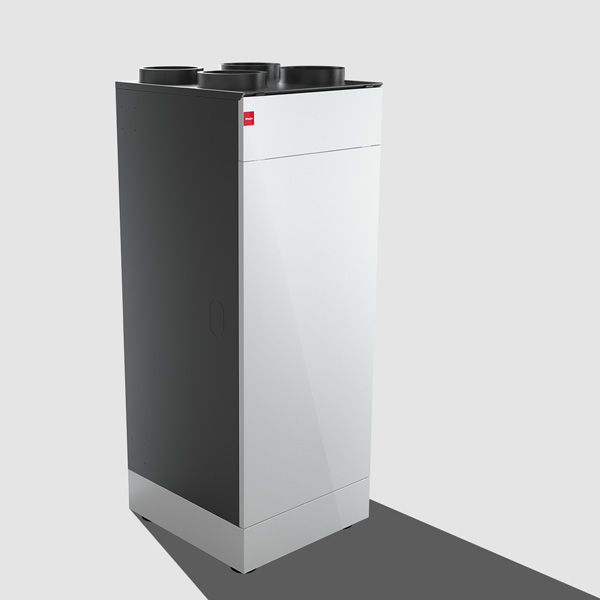 Two versions.
Comfort plus points.
M Flex Air comes in two versions – Standard and Plus. The Plus version is equipped with a enthalpy heat exchanger ex-factory for additional moisture recovery.
This ensures optimum comfort, both in the summer and winter.
Directly to the products:

> M Flex Air
> M Flex Air Plus
Air 56
air distribution system.
The air distribution system by Glen Dimplex is like a Lego system: extremely easy and quick to install. Air 56 is installed directly in the ceiling, wall, concrete or insulation layer in new buildings. It can even be installed together with electrical cables.
The ventilation pipes can be bent flexibly in all directions without many additional parts. Thanks to the extremely installation-friendly design of the distribution system, adjustments at the construction site are no problem at all.

> More about Air 56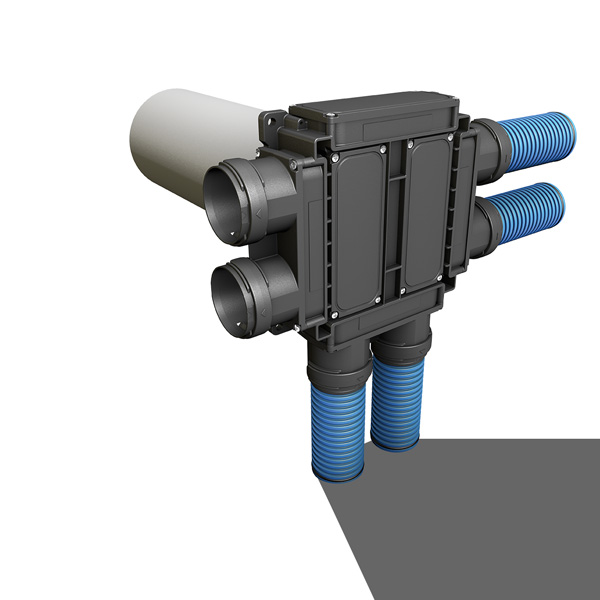 Der Umstieg auf
Dimplex lohnt sich.
Der Einbau energieeffizienter Wärmepumpen wird vom Bundesamt für Wirtschaft und Ausfuhrkontrolle (BAFA) mit attraktiven Fördersummen aus dem Marktanreizprogramm (MAP) unterstützt. Im Neubau wird der Einsatz einer Wärmepumpe mit 35% Förderung der Investitionskosten belohnt. Bei Wohngebäuden werden maximal 50.000 Euro der Investitionskosten gefördert. Das sind bis zu 22.500 Euro Belohnung für klimafreundliches Verhalten.

Unser Neubau-Tipp: M Flex Air inkl. Air 56 Luftverteilsystem kann in die anrechenbaren Kosten für die Förderung aufgenommen werden. Natürlich in Kombination mit einer neuen förderfähigen Wärmepumpe M Flex oder System M.

> Mehr über Förderung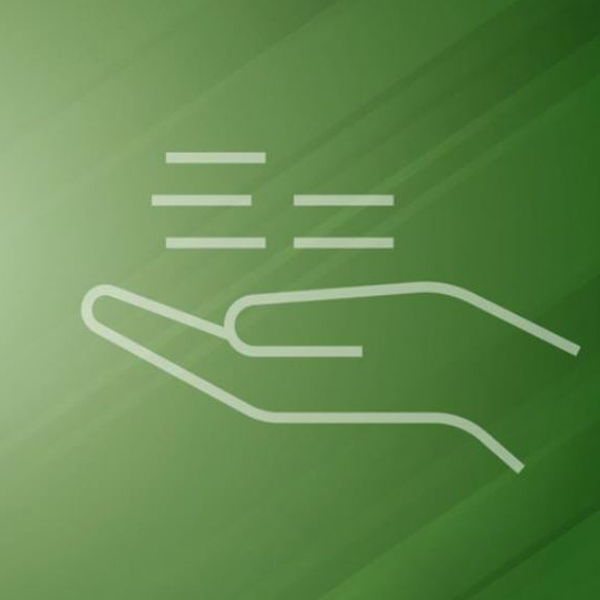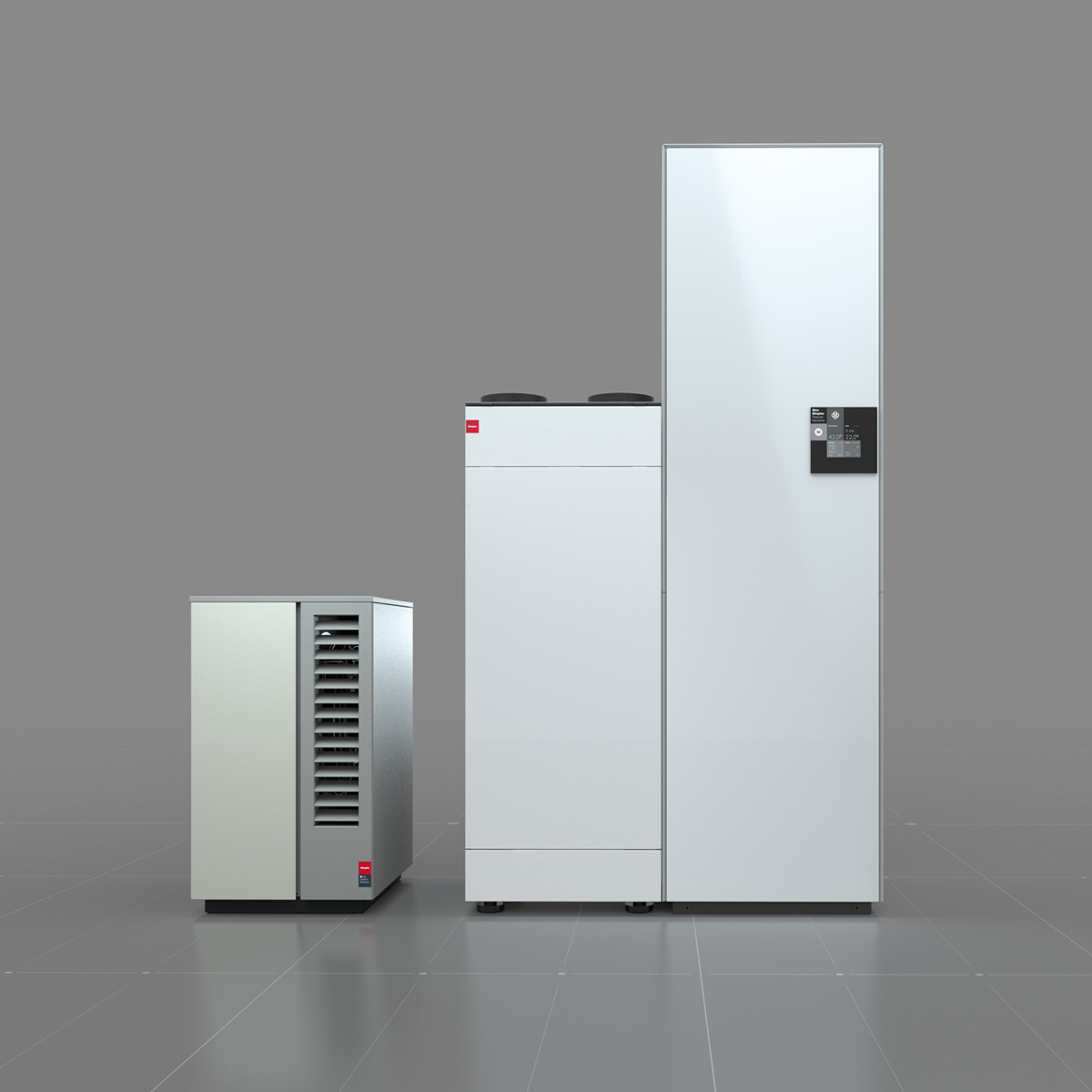 A system for heating,
cooling and ventilation?
M Flex Air with
System M heat pumps.
The entire heating and ventilation technology in one system. Ventilation module with heat pump in one. Incl. domestic hot water preparation. Compact and tidy. With a common controller and one user interface.

> More about M Flex Air in the system
Customised ventilation systems. Plan your ventilation with GDTS.
We are there for you.
Would you like more information on our products or do you have a question?
We will be happy to help.