Air/water heat pump system LIA in split design
The new LIA split air/water heat pump system is a simple, stylish and sustainable solution for building climate control. The LIA is ideally suited for energy-efficient heating, cooling and hot water heating in new buildings, renovations and replacements. With its sustainable refrigerant and smart operation, the LIA heat pump system offers a sustainable and innovative solution for detached and semi-detached houses.
The LIA is a split air/water heat pump system with efficient inverter technology. It intelligently adapts to the actual heating, cooling and hot water requirements of the building at all times. This makes it particularly efficient and powerful. Heating is possible with the LIA family down to an outside temperature of -25°C. The environmentally friendly refrigerant R32 additionally improves the CO2 balance of the building and avoids annual leak checks. Maximum flow temperatures of up to 65°C and the integrated cooling function combined with surface heating/cooling systems and / or fan coils make it possible to use free environmental energy efficiently all year round.
The highlights at a glance
Suitable for almost all applications thanks to various equipment variants and three output sizes 6 kW, 10 kW and 14 kW
 
Environmentally friendly thanks to the low GWP refrigerant R32 and a maximum charge of 1.84 kg
 
Easy installation as all necessary components are already integrated
High efficiency thanks to a COP of up to 5.0. Efficiency class up to A+++
 
Smart operation thanks to the colour touch display and the Dimplex Home App
 
Space-saving thanks to the small footprint of the indoor unit of 60 x 60 cm
 
Frost-proof at all times thanks to refrigerant-carrying connection lines between indoor and outdoor unit
Simple and intuitive: The Dimplex touch display

A touch display enables simple and intuitive operation via a 4.3-inch colour display directly on the indoor unit.
The controller integrated in the heat pump intelligently and automatically ensures efficient and convenient operation. The intuitively designed user interface makes it easy to make all settings on site. With the NWPM Touch network card, the LIA heat pump system can be connected to any router via a LAN cable and controlled via a smart device.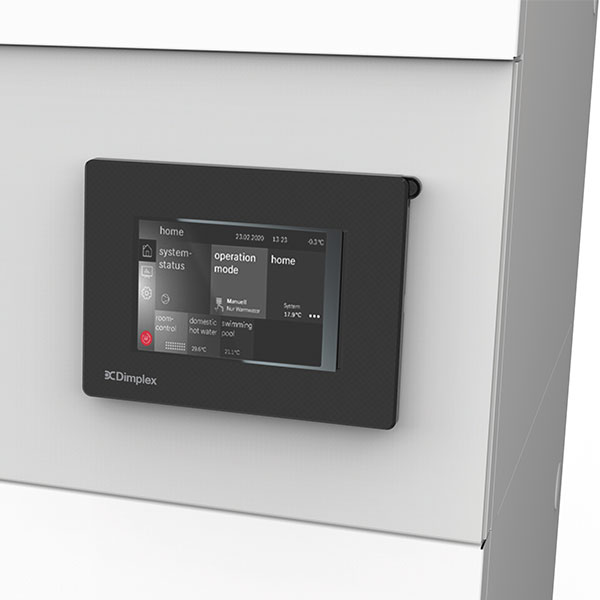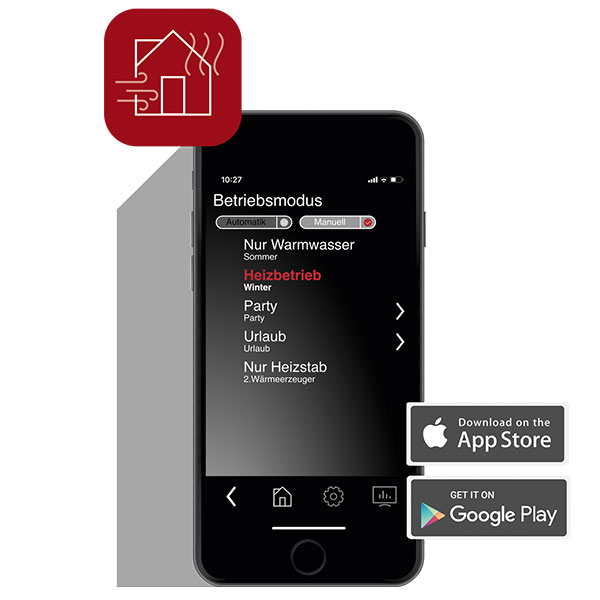 Smart control: The Dimplex Home App

With the Dimplex Home App, the control of the heat pump system can be accessed at any time and from anywhere. The intuitively designed app interface can be used to set different temperatures for individual rooms, schedule heating to start at certain times or activate holiday mode when the occupants are away. The premium version of the app for installers also features automatic notification in the event of malfunctions, graphic evaluation of unit data and malfunction assistance.
Ready for the smart grid
The SG-Ready functionality for increased use of the heat pump in times of low electricity costs is particularly interesting. In combination with Smart-RTC+ intelligent room temperature control, the building can be used as a thermal storage unit or the heat pump can be intelligently combined with fossil and or other regenerative heat generators.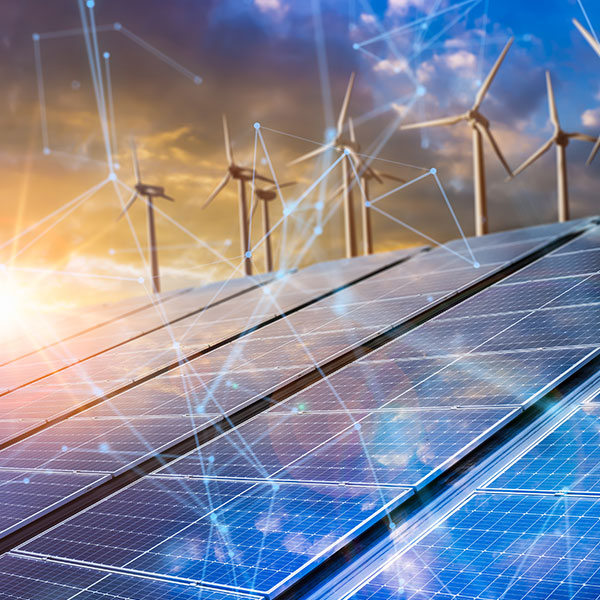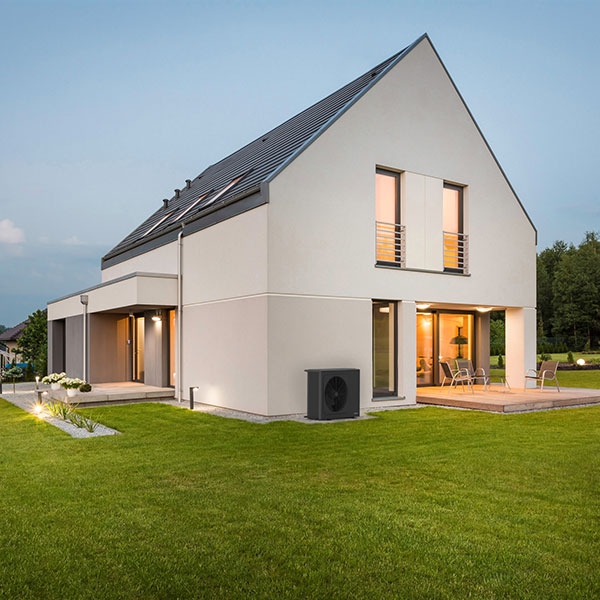 Compact outdoor unit
Due to the space-saving construction and the contemporary colour design, the outdoor unit integrates harmoniously into the surroundings of the building.
The colour 'dark grey' harmoniously matches any exterior façade.
The Plug'n'Play principle
The compact indoor unit with a footprint of 60 x 60 cm contains, in addition to the heating and cooling function, all necessary hydraulic components as well as a hot water tank (200 l) - simple "Plug'n'Play" through integration of all necessary components.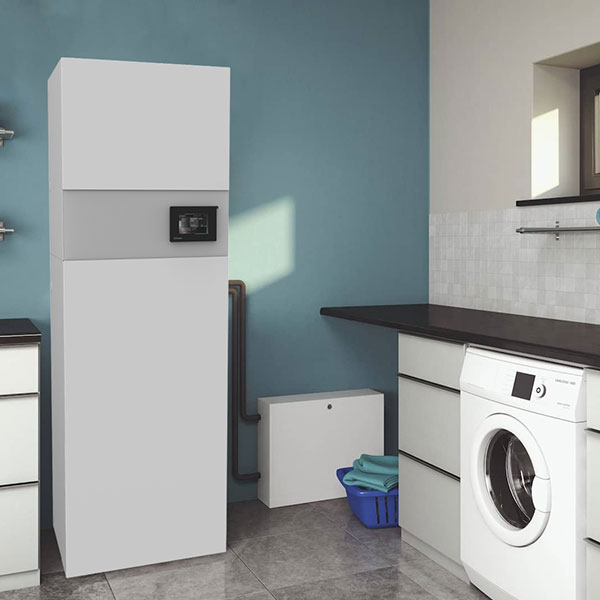 Three output classes. Three combination options.
All in all, intelligent combination options are available for a modern supply for detached and semi-detached houses that leaves almost nothing to be desired. Depending on needs and requirements, the outdoor unit can be combined with different indoor units. Three output sizes are offered for the most diverse building requirements and sizes: 6 kW, 10 kW and 14 kW.
Variant 6 kW and 10 kW with integrated hot water tank (200 l).
Ideal for new buildings
A particularly compact, ready-to-connect hydraulic unit with a footprint of 60 x 60 cm, includes all necessary hydraulic components and a hot water tank (200 l). This enables simple and quick installation in new buildings and provides hot water comfort for up to 4 people. When using radiators or individual room control, the unit is supplemented by a buffer tank.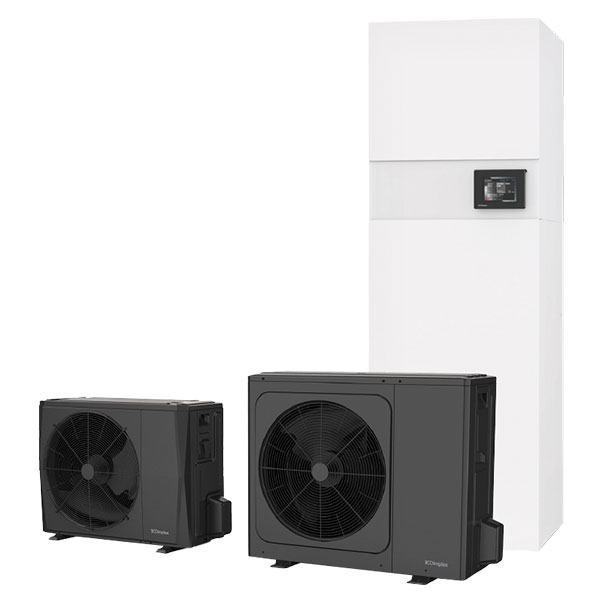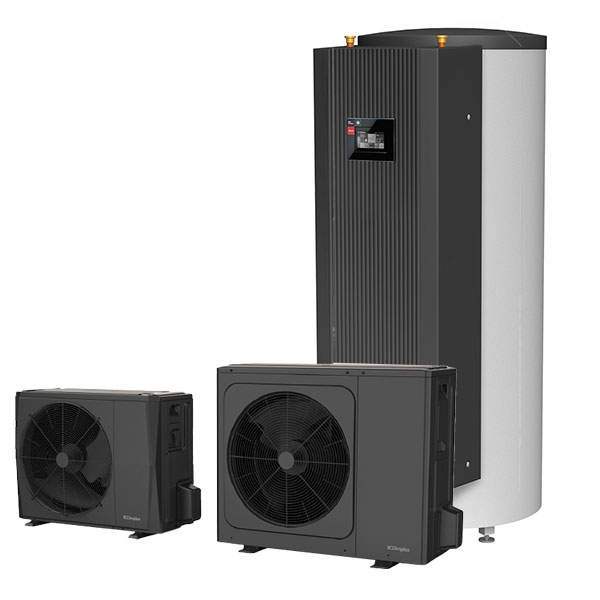 Variant 6 kW, 10 kW and 14 kW with 300 l hot water tank + 100 l buffer tank
Ideal for new construction and renovation
The hydraulic tower, also available as a ready-to-connect hydraulic unit, with 300 l hot water storage tank and 100 l buffer storage tank is available for simple and quick installation in sophisticated new buildings or for renovation properties with a larger hot water requirement (up to 6 people) and a high demand for comfort. It is possible to connect an additional fossil or regenerative heat generator.
Variant 6 kW, 10 kW and 14 kW with Hydrobox
Ideal for new buildings and renovations
The variant with wall-mounted Hydrobox is particularly flexible in use. In combination with individually selected or existing hydraulic components and hot water storage tanks, this solution is predestined for properties where the fossil or regenerative heat generator is to be flexibly replaced or existing installations or components are to be integrated.