Comfortable ventilation via remote control.
The decentral DL 50 WE2 domestic ventilation unit is a real alternative to central ventilation units with heat recovery and offers additional comfort thanks to the remote control. The ventilation system is made up of one or several remote-controlled fans and a central wireless indoor air control via Somfy app – based on the battery-free EnOcean wireless technology.
Targeted and controlled aeration and ventilation of individual rooms. For a healthy and pleasant indoor air at any time of year.
Quick, cost-effective installation. Ideal for renovations and retrofitting – particularly for insulation measures.
Extremely efficient. Integrated heat exchanger uses the heat from the exhaust air to warm the fresh supply air.
Continuous and comfortable heat recovery via constant volume flow.
Lasting comfort. Quiet fans, low maintenance requirements, an attractive service-package with extended warranty.
Guaranteed hygienic – also suitable for allergy sufferers. Effective pollen protection thanks to the high filter quality. Helps to prevent mould formation – and makes a valuable contribution to the long-term maintenance of the building structure.
Wide range of functions and flexible operation. Vis optional remote control, Somfy app and EnOcean interface.
Technical data.
Air volume flow: 15/30/45/55 m³/h
---
energy efficiency category*: A
---
Heat exchanger: Cross-countercurrent flow
---
Degree of heat recovery: max. 89 %
---
Heat supply rate: max. 82 %
---
Standard sound level difference: 51 dB
---
Sound pressure level (levels 1/2/3/4): 8,1/21,1/28,6/33,5 dB (A)
---
Air filter class: F7/G4
---
Dimensions (W x H x D): 340 x 340 x 320 mm
---
Wall thickness
(without adjacent room connection): min. 320 mm
---
*Range of energy efficiency category from A+ to G
---
Important documents for:
Installers
Private customers
Planners/architects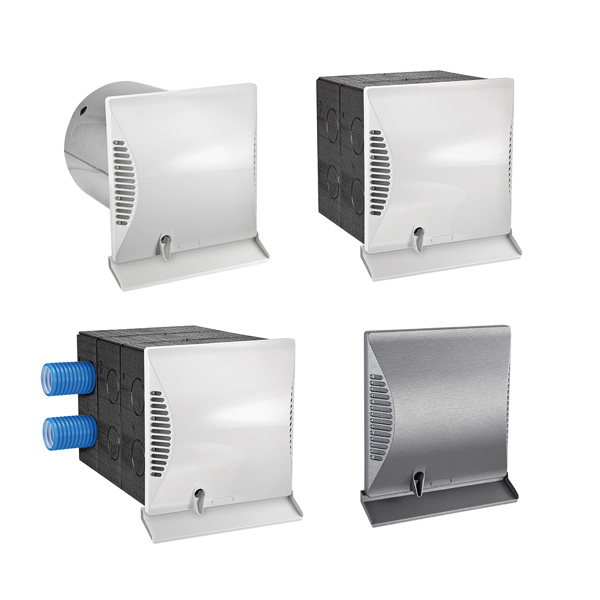 Wall sleeves and
exterior wall panels.
To install the DL 50 ventilation units, simply opt for one of the different wall sleeves – round or square. With visually appealing exterior wall panels and integrated condensate drainage.
The DL 50 Q2 model allows the connection of two ventilation pipes to the additional supply air or exhaust air duct in one adjoining room.
Always up-to-date.
Are you interested in regular maintenance or inspections on your system?
We are there for you.
Would you like more information on our products or do you have a question?
We will be happy to help.