Perfected in the system.
Heating, cooling and ventilation in one.
At last, a unified picture of the entire heating and ventilation system in the technology room. The central ventilation module designed for ventilating and purging single-family homes with up to 250 sqm of living space.
M Flex Air can be implemented as a combined system with any System M heat pumps, including domestic hot water preparation and the Air 56 air distribution system.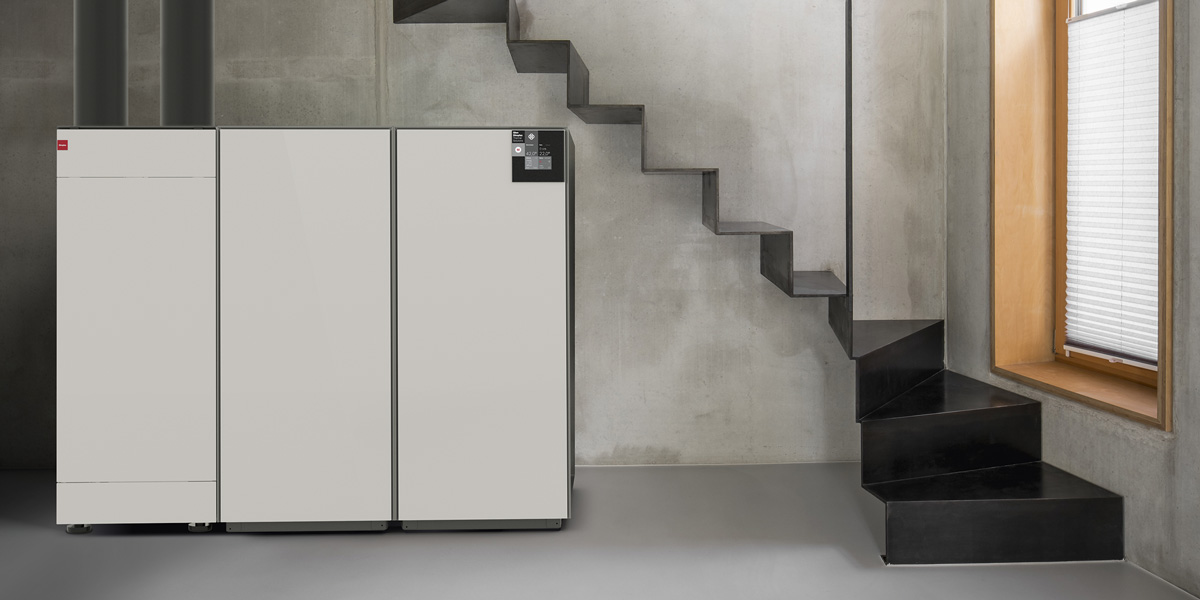 The feed-good factor: Ventilation.
These days, people spend almost 90 per cent of their lives in enclosed rooms. Whether they feel good inside those rooms largely depends on the indoor air. Modern, energy-efficient houses have to be insulated. And this makes the building envelope even more air-tight. Regular ventilation is key to ensuring enough air exchange in your own home as well as a healthy indoor climate. It works best with a central ventilation system from GDTS, which also takes care of the heating, warm water and cool temperatures in the summer.
Fully integrated
into the design.
Just like the complete system, the ventilation module stands out with a design that has already won many internationally recognised design prizes and is so typical of GDTS.

> To System M heat pumps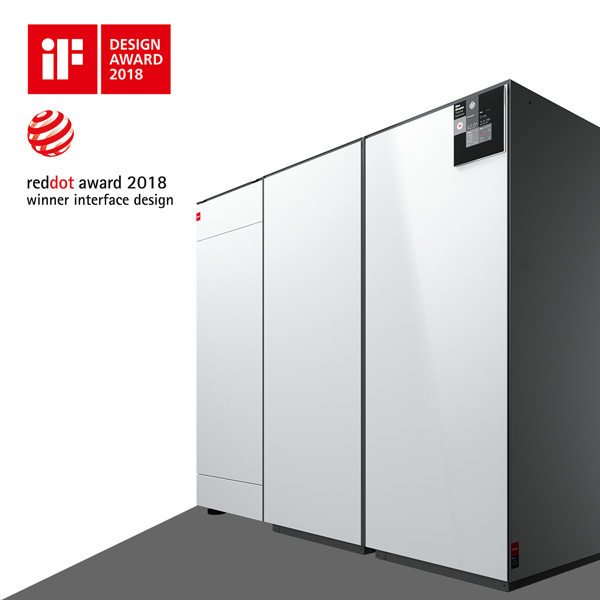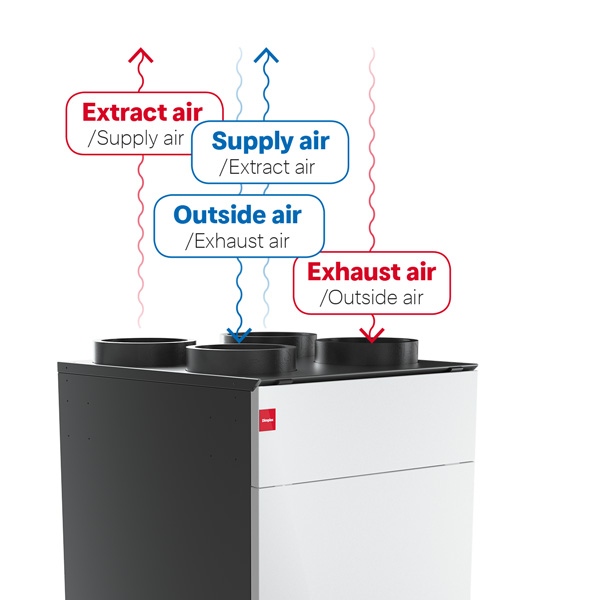 Flexible
installation. 
The directions of air flow can be changed with a supply air connection on the left or right, which ensures a high degree of installation freedom.
 
The integrable electric reheating register ensures increased comfort when the outside temperatures are low. In the winter, the integrable electric pre-heating register allows a safe and continuous heat recovery mode.
Ventilation.
A wide range of configurations.
Maximum installation freedom.
With a modular dimension of 53.4 x 56.0 cm, M Flex Air perfectly suits the indoor units of the System M heat pumps. Depending on the configuration, the ventilation module can be positioned vertically, to the left next to the indoor unit or horizontally on top. The direction of air flow can be selected to the left or right.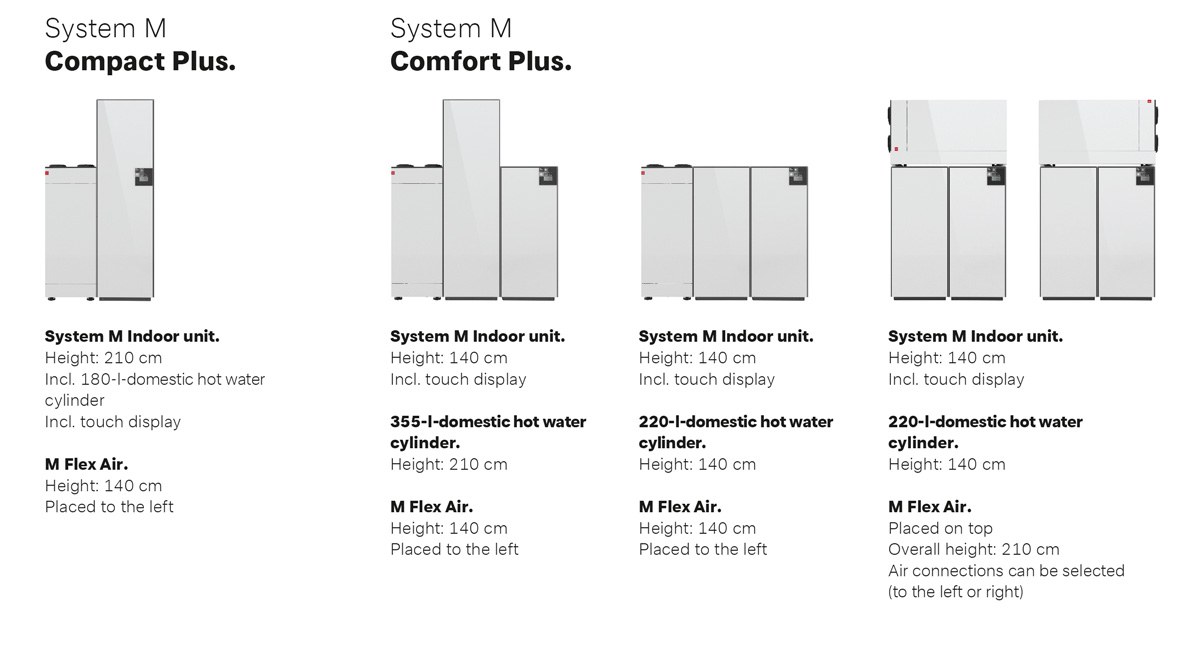 "We designed M Flex Air so that our customers don't even have to think about ventilation in their everyday lives any more. It's extremely quiet. And the design is inconspicuous. In our view, that's what makes a really good ventilation system."
Jasmin Schardt
Product management for ventilation systems
 
Schalltechnisch perfektioniert.
Durch die neueste Generation Ventilatoren und das perfekte Zusammenspiel aller baulichen Komponenten wird nur ein sehr geringer Schall an die Umgebung abgegeben.

Der hohe Aufbau des Lüftungsmoduls bewirkt zusätzlich einen geringeren Schalleintritt in die Luftkanäle.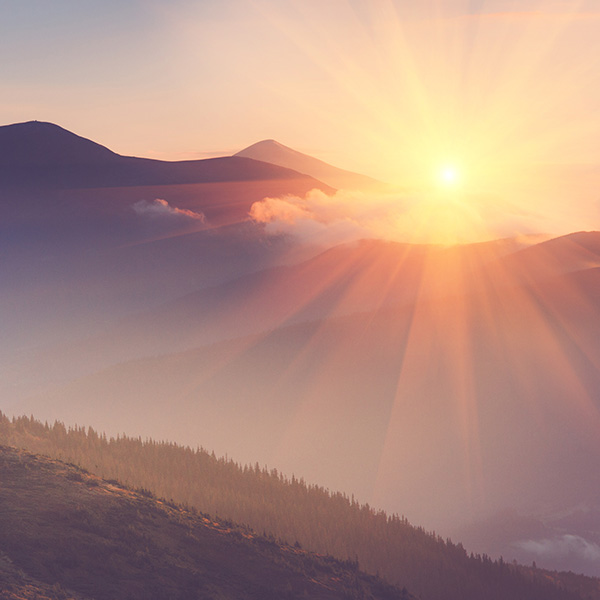 Guaranteed clean air.
Allergy-sufferers can finally breathe easy: Flower pollen, fine dust or soot particles do not even enter the living and sleeping spaces thanks to the pollen filter that is installed as standard, the fine filter that is available as an option and the optional filter cascade. The filter cascade is optionally available as a pre-filter in the outside air intake. The air quality sensors that are integrated as standard in the exhaust air and the outside air adapt the air exchange to the air quality in the inside spaces and the outside area.
This has a positive effect on well-being, promoting good sleep and concentration. And the ventilation system itself? It runs almost noiselessly.
Functions for comfort.
Integrated as standard.
Air quality sensors in the exhaust air and even in the outside air.
Orientation of air connections can be chosen (supply air on left or right).
Fireplace safety function can be activated for volume flow balance.
Pollen filter.
Functions for comfort.
Optionally integrated.
Moisture recovery with enthalpy heat exchanger.
Electric outside air heating register.
Electric supply air heating register.
Filter cascade incl. pre-filter in the outside air intake.
Condensate siphon with dry-running and low pressure protection.
Condensate drain for use in cooled buildings.
One control.
For the entire system.
In combination with the System M heat pumps, the ventilation unit is operated using the heat pump indoor unit's touch display or via the GDTS Home app on a smart device such as a mobile phone or tablet.
All of the functions – ventilation, heating and even cooling – are ideally geared to each other and work perfectly together. This ensures optimal heating, ventilation and cooling at all times.

> To the GDTS Home App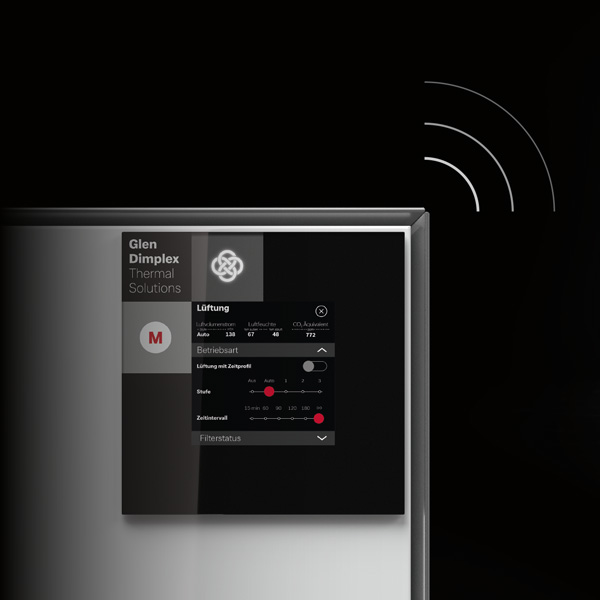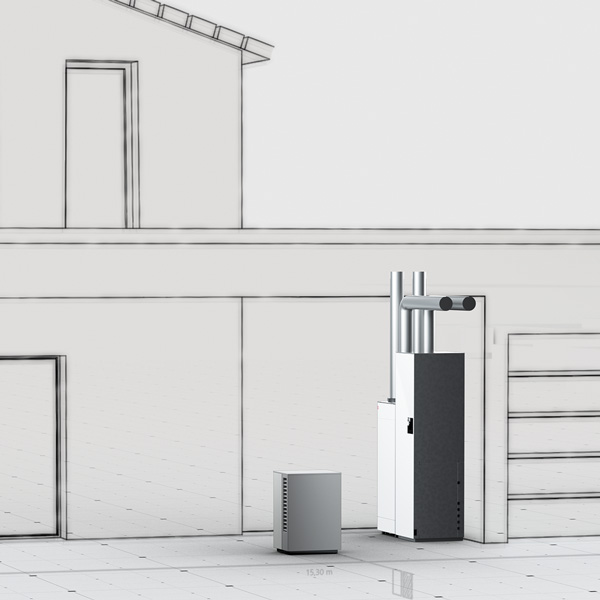 The right system.
For every building project.
M Flex Air is available in two versions – Standard and Plus. The Plus variant is equipped with an enthalpy heat exchanger for additional moisture recovery.
So whether summer or winter, the best comfort is always provided.
Direct to the products:

> M Flex Air
> M Flex Air Plus
The right match: the Air 56 air distribution system.
This intelligent air distribution system consists of only a few components that can be put together in any combination. Whether routed in the ceiling, concrete or insulation plane, the unique pipe diameter of 56 mm gives the air distribution system maximum flexibility when being worked on, while taking up little space. It is easy to install using the "click" principle, which also guarantees an absolutely tight connection between all components.
Customised ventilation systems. Plan your ventilation with GDTS.
We are there for you.
Would you like more information on our products or do you have a question?
We will be happy to help.