Wie funktioniert richtiges Lüften im Schulalltag?
Um Lehrer und Schüler vor ansteckenden Viren zu schützen, sollte die Raumluft gemäß Umweltbundesamt dreimal in der Stunde komplett ausgetauscht werden.*
Dann heißt es, entweder alle 20 Minuten unterbrechen, um alle Fenster weit zu öffnen oder über eine leistungsfähige Lüftungsanlage für permanenten Luftaustausch zu sorgen.

> *Richtiges Lüften im Schulalltag
So geht's!
An der Max-Hundt-Schule in Kulmbach sorgt die M Flex Air bereits für frische Luft. Wie einfach das geht, sehen Sie hier.

> So funktioniert's in Schulen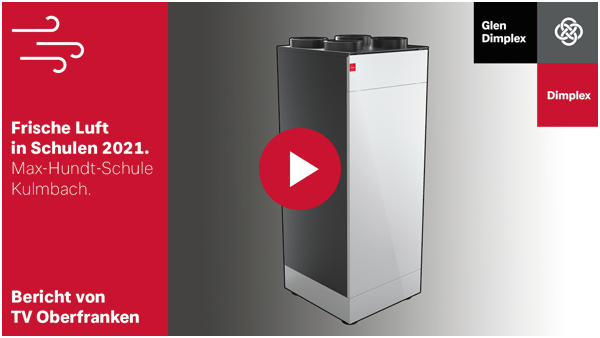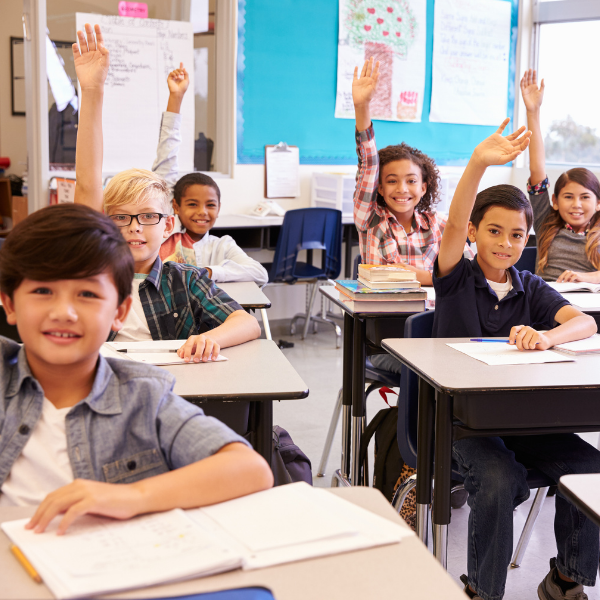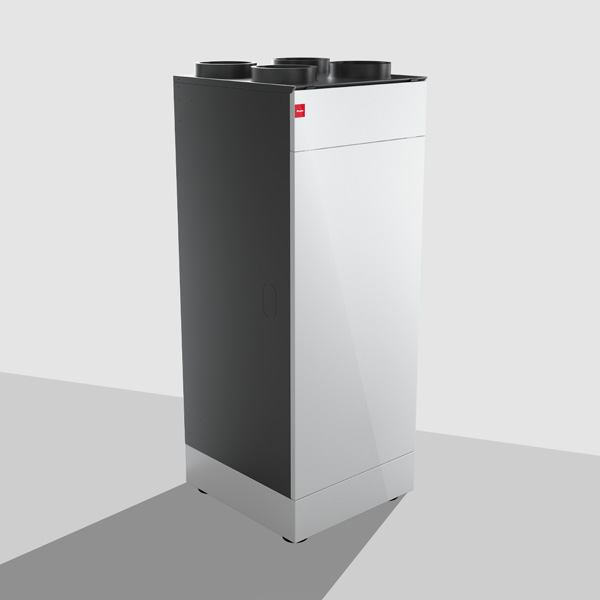 Nothing is better than fresh air.
With M Flex Air.
The M Flex Air central ventilation unit allows fewer interruptions to lessons, for example. "Shock ventilation" (a German practice involving fully opening windows) is minimised and therefore windows are opened less. Or  this isn't required at all, if one or more ventilation units are used (depending on the size of the room).
If a classroom is (LxWxH)  12 m x 6 m x 3 m = 216 m³ there are two options for ensuring that the air is exchanged three times in a double lesson of 90 minutes. 
Option 1:
Recommend by the German Environment Agency.*
Three classroom interruptions per 90 minutes.
20 min teaching – 5 min ventilate –
20 min teaching – 5 min ventilate –
20 min teaching – 5 min ventilate –
15 min teaching
Exchanged air volume
approx. 3 x 216 m³/90 min
= 648 m³/90min
= 432 m³/h
*There may be other regulations depending on the country/region. Please follow these accordingly.
Option 2:
Dimplex M Flex Air: For fewer interruptions from "shock ventilation". 
Ventilation unit with heat recovery and bypass: 300 m³/h.
45 min teaching – 5 min ventilate –
40 min teaching
Exchanged air volume
approx. 1x 216 m³/90 min + 450 m³/90min
= 666 m³/90 min
= 444 m³/h
M Flex Air is a ventilation unit that can be used flexibly and allows the required air exchange to be implemented practically. In rooms where it isn't possible to ventilate via windows, two units can be installed to ensure the required fresh air supply.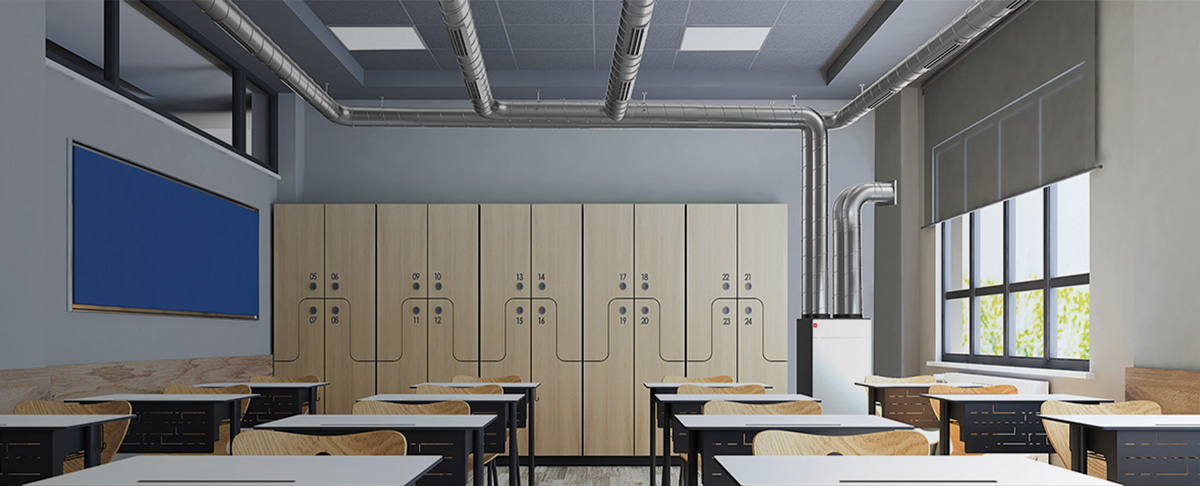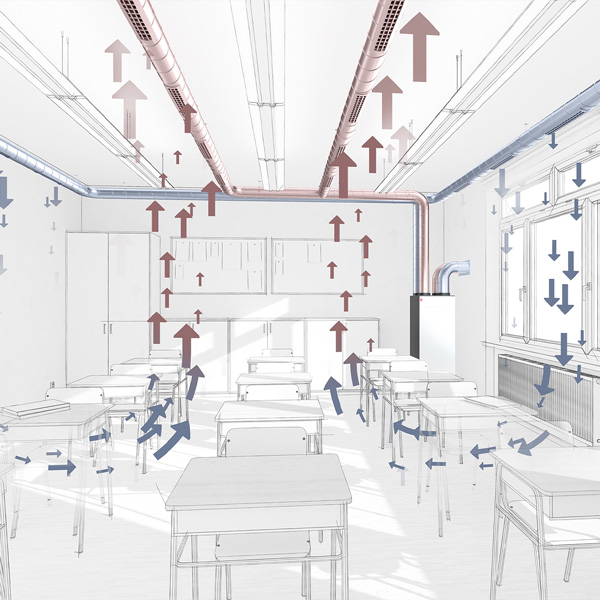 An effective ventilation concept.
For schools and many other closed spaces.
The air used is drawn away immediately above the pupils so that they have as little contact as possible with the contaminated exhaust air. Two exhaust air ducts in the ceiling draw it upwards and blow it outside.
In turn, fresh air is conveyed at both side walls to ensure a directional, smooth flow of air from the side walls to the ceiling.
Prerequisite:
Air distribution in high rooms (> 3 m) possible on the ceiling.
The required air exchange is determined and is comprised of automatic ventilation from M Flex Air and manual window ventilation as a support.
The pressure drops are designed so that the ventilation unit can be operated with over 300 m³/h. Recommendation: two supply and two exhaust air ducts with a nominal diameter of 160 mm.
As per energy efficiency label: sound power level 46.5 dB(A) as per EN 13141 T7 (70 % of the rated output). Optimised air circuit for extremely quiet operation at the same high volume flow (> 300 m³/h)
Scalable: according to the room size and ventilation concept, use one or more M Flex Air ventilation unit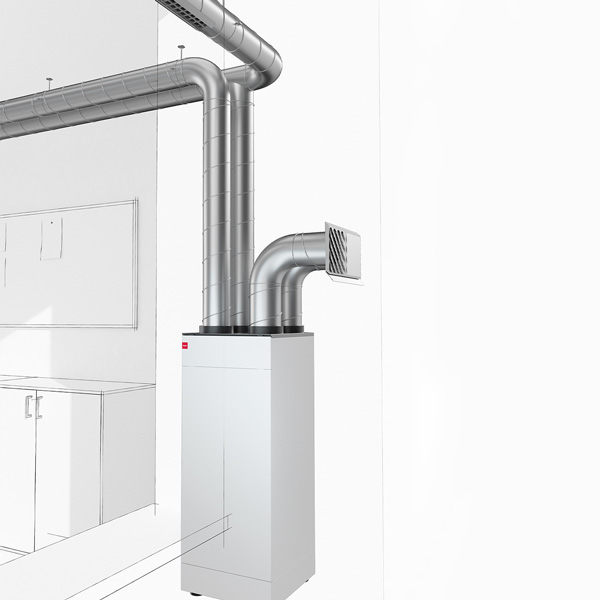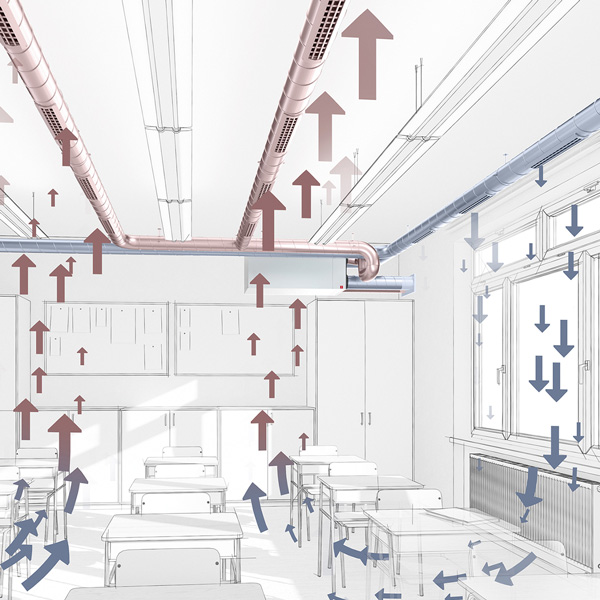 Flexible installation.
Easy to maintain.
M Flex Air ventilation unit installation (230 V connector connection and condensate drain required).
Easy to install: outside air and extract air are conveyed via two core holes created toward the outside. Air distribution installation on the ceiling.
Automatic filter change indicator: possible for a caretaker to do the replacement (no specialist knowledge required).
Clever design.
Simply hidden.
M Flex Air has variable installation options and is compact. The ventilation unit can be installed upright, wall-mounted or installed under the ceiling.
Its compact cabinet measurements of 560 x 534 mm mean that it can be integrated into existing installation cabinets and, therefore, it disappears into the background.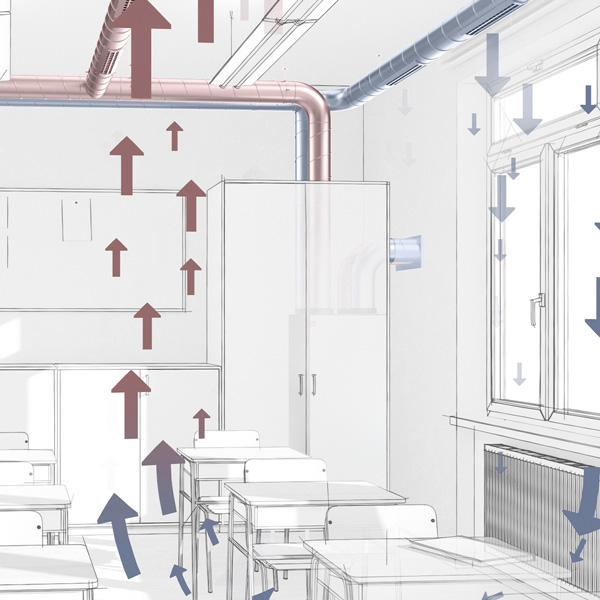 Easy and effective to use.
The energy in the warm exhaust air is used to heat the supply air, which saves on heating costs and improves the CO2-footprint.
M Flex Air also automatically adapts the volume flow to the air quality when air is exchanged. If very few or no pupils are in the room, less ventilation is required.
In the summer, the ventilation system also cools overheated classrooms with cool night air without additional energy requirements.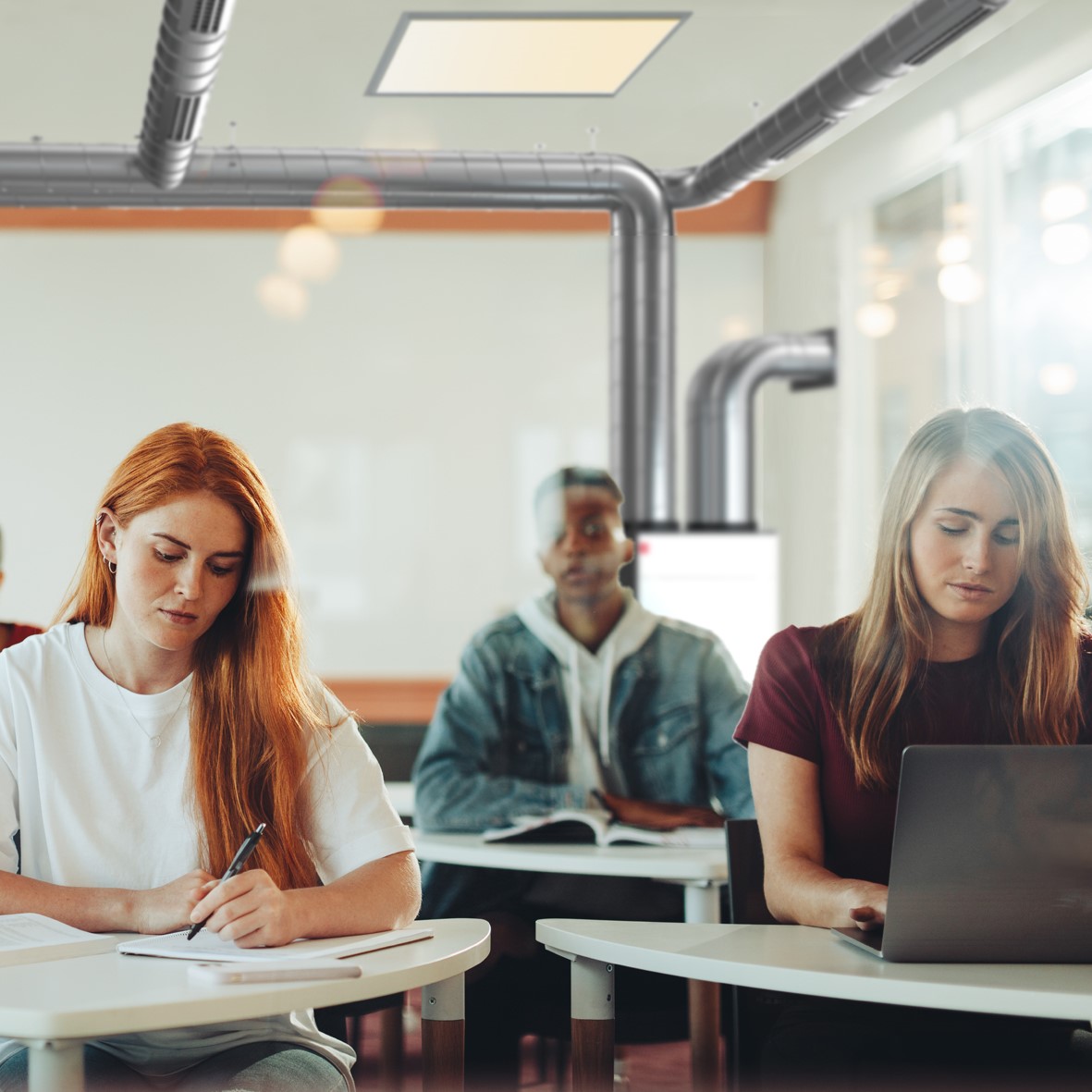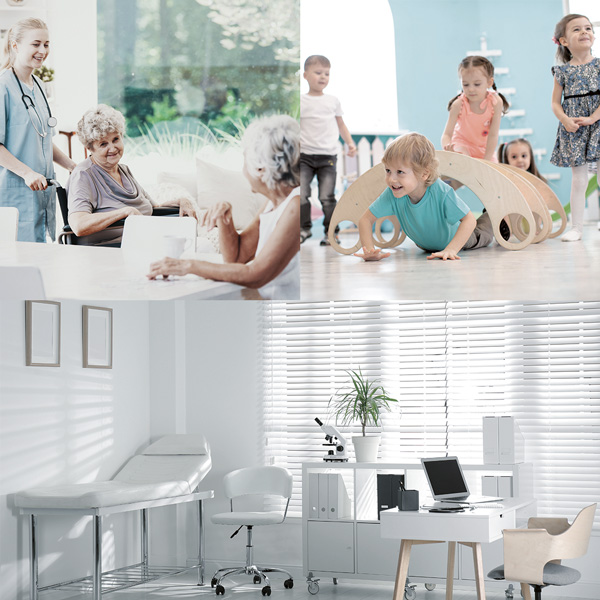 Flexible use.
Suitable for a variety of closed rooms e.g.
Practices
Offices
Nursery schools
Nursing homes
Schools
Daycare facilities
Youth/free-time centres
Interested?
We would be happy to advise you.
Would you like more information or do you have a question?
We will be happy to help.

Email: lueftung.schulen@glendimplex.de