Domestic hot water heat pump.
Efficiency and comfort combined.
Basements are often subject to unwanted passive heating, whether from a heating boiler or from electrical appliances that emit lots of heat. The domestic hot water heat pump uses this energy from the air and waste heat for domestic hot water preparation. This means as much as 70 percent of the required energy is free to use. That's easily enough for a detached or semi-detached home. As a positive side-effect, the basement is automatically dehumidified, so reducing mould. If that's still not enough, it's possible to connect to an air distribution system, making the domestic water heat pump even more efficient. This is because more rooms are then used to turn the exhaust air into hot water. Up to 560 litres of hot water can be transported at once – the ultimate in comfort. And for even more energy efficiency, a photovoltaic (PV) plant can also be connected to the system.

Take up our 5-year extended warranty offer (in German and Austrian sales territory).
Get more information here.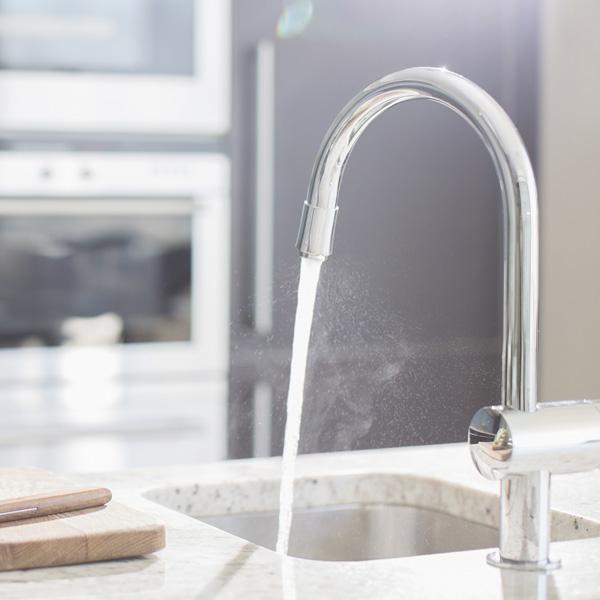 Die Warmwasser-Wärmepumpen der DHW-Serie von Dimplex
Eine Warmwasser-Wärmepumpe ist sowohl im Neubau als auch im Gebäudebestand eine der effizientesten Lösungen für die Warmwasserbereitung. Sie kann unabhängig von einer vorhandenen Heizung ganzjährig den Bedarf eines Einfamilienhauses an warmem Wasser decken. Dabei gewinnt sie bis zu 70 % der für die Aufheizung benötigten Energie aus der Umgebungsluft oder der in der Raumluft vorhandenen Abwärme.

Die Warmwasser-Wärmepumpen von Dimplex vereinen Komfort und Effizienz. Die wichtigsten Vorteile der DHW-Serie im Überblick:
Einfach effizient aufwärmen: Warmwasserbereitung aus Abwärme.

Einfach Siegel geprüft: Alle DHW Warmwasser-Wärmepumpen besitzen das EHPA-Gütesiegel.

Einfach intelligent speichern: Eigene PV-Energie fürs Warmwasser nutzen.

Einfach vielseitig kompatibel: Fernsteuerung über Energiemanagement- oder Gebäudeleitsysteme per RS-485-Schnittstelle möglich.

Einfach komfortabel: LC-Display mit Kapazitiv-Touch-Bedienung.

Einfach gut aussehen: Kompakte Abmessungen und modernes Design für den Aufstellraum.

Einfach aufstellen: Dank niedriger Kippmaße, teilbarer Hauben und seitlicher Anschlüsse sind auch niedrige Kellerräume als Aufstellorte geeignet.
> DHW 250P mit natürlichem Kältemittel R290 und einfacher Bedienung
> DHW 300+ mit Zusatzwärmetauscher für Kombination mit bestehender Heizanlage.
> DHW 300D für Betrieb bis -7°C Lufttemperatur.
> DHW 300D+ Kombination mit bestehender Heizanlage, Betrieb bis -7°C.
> DHW 300 VD+ zusätzlich mit integrierter Entlüftungsfunktion.
> DHW 301P mit R290 und PV-Einspeisung für Wärmepumpe und Heizstab möglich
> DHW 301P+ PV-Einspeisung möglich und mit Zusatzwärmetauscher zur Einbindung eines zweiten Wärmeerzeugers
> DHW 400+ für noch mehr PV-Strom-Speicherkapazität und mehr Warmwasserkomfort.